Every couple dream of going on a Caribbean cruise, spend some quality moments together, enjoy alone intimate time and relax on luscious sandy beaches alongside turquoise blue waters. And if you are one lucky couple heading out on a Caribbean cruise soon, then you might have been looking out for ways to make it a delightful and an unforgettable experience for both of you.

With couple's massage spas on state-of-the-art Caribbean cruise ships, fret no more! Do not miss out on one of the most memorable and relaxing occasions to connect and bond with each other in a meaningful and unique way.

If you have never been on a Caribbean cruise, or are going with your partner for the first time, then you might be wondering what exactly is a couple's massage spa, what to expect and how to act when you actually book one. But do not worry anymore, because here is everything you need to know about Caribbean cruises with couple's massage spa.
Couple's Massage Spa on Caribbean Cruises: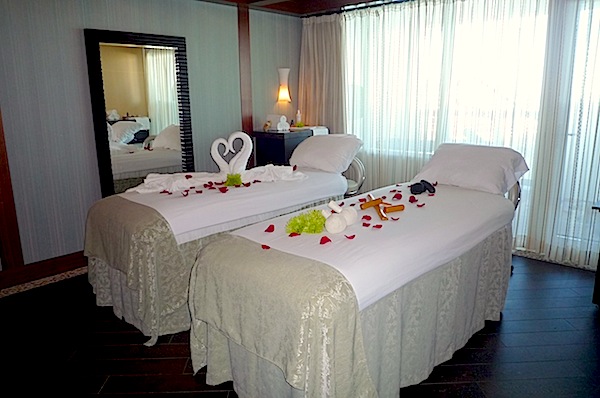 Caribbean cruises with couple's massage spas are a huge trend right now, but what exactly are they? They are just massage spa resorts or clinics developed on cruise ships. Here, you can enjoy therapeutic and rejuvenating massage treatments with your better half. You and your partner lay next to each other on separate beds, and two masseuses treat you to your specified treatments.

Couple massage spas provide every other spa therapy and other essentials such as hot stone massage, aromatherapy, reflexology, exfoliating and cleansing facials, manicures and pedicures, soothing music, candle lighting and more. Couple often go for cruise ship massage spas to present each other with a revitalizing gift; however, they do not necessarily need to be a present.
Caribbean's Cruise Spa Cost:

Caribbean cruise massage spa treatments are around seventy to eighty times more costly than your local massage spa centers or resorts. You should expect to pay a premium for an hour-long service, and the cost for a sixty-minute long therapy may be anywhere between 100$ to 250$.
However, fret not! You can always look out for special offers or tailor-made packages to treat yourself and your partner to cheap treatments. Cruise packages that include spa treatments for couples may cost less compared to separate couple's spa therapy.
Take Advantage of The Extras:

Caribbean's cruise couples massage spa include complimentary extras such as saunas, thalassotherapy pools, steam rooms, fitness centers and other useful amenities with your therapy or cruise ship reservation. You can conveniently take advantage of these extras and relax more with your partner before you go out for a full-fledge pampering session.
You can do so by arriving hour an hour early to the spa center and letting yourself and your partner heal by taking in the goodness of these extra and specialized services.
Caribbean Cruises Massage Spa Treatments:

Caribbean cruises massage spa treatments include every other therapy offered at world-class spa centers including head to toe massage treatments, acupuncture techniques, exfoliating facials, rejuvenating masks, hair styling services and more.

And you and your partner do not necessarily have to go for the same treatment. Although you and your partner will lie next to each other, you can both consult your massage therapist personally and then opt for a treatment.

People are unique, and so are their body requirements. What your need may not be a suitable choice for your partner. You may have shoulder tension, and your partner may have had an ankle surgery, you may be looking for a scalp massage, and your partner may want to relax their legs.
You do not have to limit yourself or your better half. Feel free to ask for tailor-made treatments and let your partner decide what they need.
Book a Couple's Massage Now!

Whether you have booked a Caribbean cruise or are looking for top-notch cruises to the Caribbean with your significant other, then do not forget to book a therapeutic massage and spa treatment with A Touch of Wellness – Caribbean's leading massage and spa treatments provider that believes in the provision of a dedicated and healing therapeutic treatments for both you and your partner. Whether you want an in-house or on the deck treatment, this is the perfect choice for you and your partner.